LONDONDERRY, N.H. | December 7, 2022 — Edgewood Senior Solutions Group (ESSG) has announced that Melissa Kampersal, LNHA, has been appointed executive director for The Baldwin, an all-new Life Plan Community (CCRC) being built at Woodmont Commons in Londonderry, New Hampshire. Kampersal currently serves as executive director at Edgewood LifeCare Community in North Andover, Massachusetts. David Botte, LNHA, who currently serves as administrator of The Meadows Health Center at Edgewood, will succeed Kampersal as executive director of Edgewood. But this is only part of the story.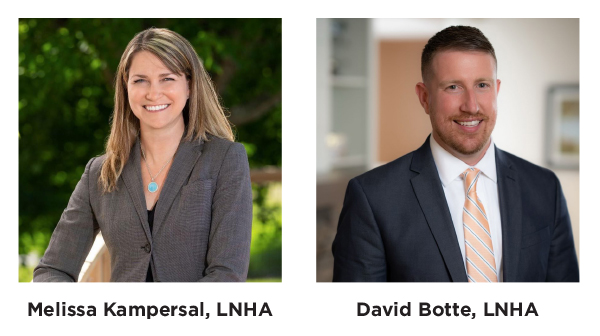 The full story goes back decades to when Melissa Kampersal (née Botte) and her two brothers, twins David and Michael Botte, began working as servers in the culinary services department at Edgewood. And it's a story Marlene Rotering, president and CEO of ESSG, recounts with great fondness and pride.
Melissa was a sophomore at the University of New Hampshire, studying hospitality management, and one of her professors was passionate about senior living. Melissa had a close relationship with her grandmother, so working with older adults sounded like something she would enjoy. She applied for the culinary services job at Edgewood — and her brothers soon followed. That's when the trio caught Rotering's eye.
"Edgewood has a 'gold star' program through which residents and staff can write notes of commendation for people who give exceptional service," Rotering explains. "I started receiving a huge volume of gold star notes for three student workers who all had the same last name. I knew I needed to get to know them and, when I did, I met three super-bright, kind, courteous, compassionate people. I told our culinary services director to keep tabs on Melissa because she had expressed a goal of working in senior services."
As it happened, when Melissa graduated from college, she went to work for a senior living organization in Texas. During her tenure, she gained extensive experience developing and managing communities as well as opening new communities. She also became a licensed nursing home administrator (LNHA) after completing her required course work. Following her time as administrator of a nursing home in Connecticut and a community in New York, Kampersal found her way back "home" to Edgewood in 2012 as director of resident services.
"It's challenging to find a true servant leader in our industry who knows how to effectively lead a community with compassion and sound judgment, and who has vast industry knowledge and experience," Rotering reflects. "Melissa has these qualities and more, including some of the strongest people skills I've ever witnessed. She's a terrific listener and has tremendous patience, which allows her to gather the necessary information before making decisions."
During Melissa's time as executive director at Edgewood, she has also attained significant goals such as achieving being 100 percent sold since March 2022 and turning some of the lessons of COVID-19 into benefits for Edgewood residents. The new Great Lawn area with its bocce court, fire pit and outdoor kitchen is just one example. "Melissa is always looking for ways to improve residents' lives," says Rotering.
Meanwhile, as Melissa was building her senior living career, her brothers had continued working at Edgewood through their high school and college years. Recognizing their unique qualities, Rotering was excited when David and Michael requested to intern at Edgewood the summer before their senior year of college. According to David, "Marlene really gave us a full view of what working in senior living is all about. She mentored us and gave us unprecedented access to every aspect of running a community. It really made me fall in love with this whole industry."
When they graduated college, Michael went on to a career in sales, while David went into the management training program with a major international hospitality company. "It was a good first job and I learned a lot," recalls David, "but it was more transactional, and I realized the relationship-oriented nature of senior living is a better fit for me."
Rotering stayed in touch with David as he built his career in senior living and became a certified nursing assistant (CNA) and a licensed nursing home administrator (LNHA). "She was always asking if I was ready to come back," recalls David. Finally, in 2019, the timing was right, and David returned to Edgewood — this time as administrator of The Meadows Health Care Center.
"The timing of David's return to Edgewood could not have been better," recalls Rotering. "All the experience he had gained, and his natural skill-set made him the perfect person to guide Edgewood through the pandemic. He was always proactive, always taking action before it was required by any of the state or federal agencies. I really credit David's leadership for keeping Edgewood residents safe and healthy throughout a very difficult time."
While some might think it unusual to find siblings at the helm of these two communities, Rotering says it makes perfect sense. "This team is very intentional on my part," she says. "From the first time I met Melissa and David as students, I knew they had the innate qualities that would make them successful in senior living — and at Edgewood in particular. To lead a community like Edgewood or The Baldwin, you need intelligence and a head for business, but you also need to be a leader who is naturally focused on serving others. And serving seniors must be a calling — it's what gets you out of bed in the morning. I saw that in Melissa and David right from the start. Many of the things they learned during other steps in their careers gave them practical experience, but there's a fine line between running a business and caring for people. With both Melissa and David, we have leaders who will never turn a blind eye to our main mission, which is serving seniors."
Rotering also says appointing Melissa as executive director of The Baldwin was an easy decision. "As plans progressed for The Baldwin, people frequently asked how we would replicate the culture of Edgewood at this new community. To me, it starts with the right leadership. As executive director of Edgewood for the past five years, Melissa knows what it takes to create the kind of community and culture we're known for. Residents will, of course, play a big part in forming the unique culture of The Baldwin, but Melissa and her team will create the environment that makes it possible."
For their part, both Melissa and David are looking forward to the new opportunities ahead. "I'm looking forward to the excitement you feel in a brand-new community when everyone and everything is new," says Melissa. "It's almost like being a freshman in college when everyone is figuring things out and looking to make friends. I can't wait to personally meet and get to know every one of the residents."
For David, who already knows many Edgewood residents either because they've been through short-term rehabilitation at The Meadows or have had a family member at The Woodlands Inn, there's a similar kind of excitement. "Over the past year, I've been spending time on the independent living side of Edgewood and I'm looking forward to getting to know all the residents I haven't yet met. It's a really exciting time for both communities."